One of Literary Hub's five "most critically-acclaimed" biographies of 2022

One of The New Yorker's "Best Books" of 2022

Voted Best Silent Film Book of 2022 in the Silent London International Poll
 

On Sale Everywhere!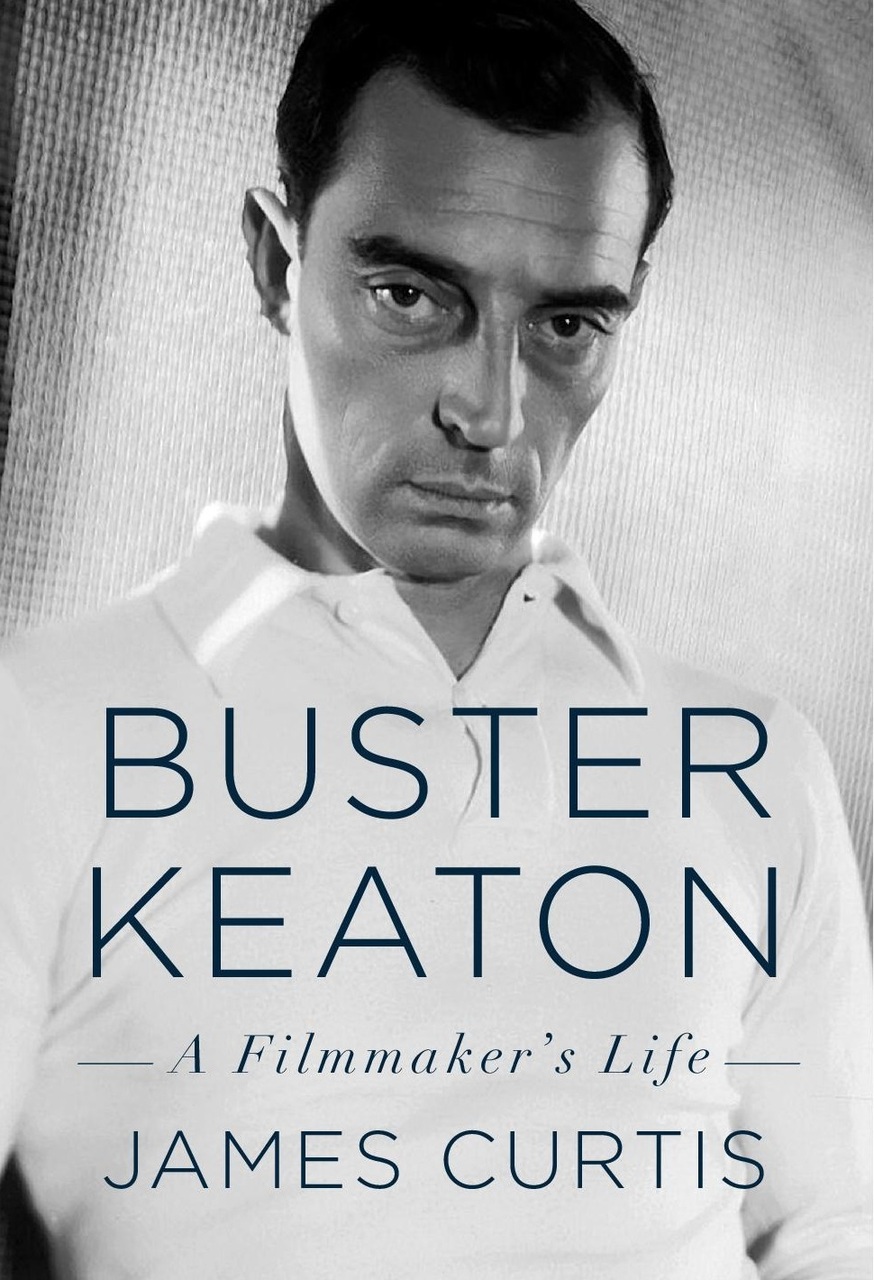 It was James Agee who first christened Buster Keaton "The Great Stone Face," but to audiences who had known Keaton since the age of five, it was merely a formality. The whole world had come to accept his stoic features as one of the genuine trademarks of silent film comedy, a deadpan in a pork pie hat as famous as Charlie Chaplin's disreputable tramp or Harold Lloyd's eager beaver in straw boater and spectacles. "He was the only major comedian who kept sentiment almost entirely out of his work," Agee wrote, "and he brought pure physical comedy to its greatest heights."
Keaton's singular look and acrobatic brilliance obscured the fact that behind the camera he was also one of the silent era's most gifted filmmakers. Through a string of nineteen short comedies and twelve extraordinary features he distinguished himself with such indelible works as "One Week", "The Play House", "The Boat", "Cops", "Our Hospitality", "Sherlock Jr.", "The Navigator", "Seven Chances", "Steamboat Bill, Jr.", "The Cameraman", and his magnum opus "The General". As a body of work, they rival Chaplin's in terms of quality and sheer comic invention. In 1960 Keaton was awarded an honorary Oscar.
Over the past century, Buster Keaton's story has become mired in myth and legend. Now James Curtis, the award-winning biographer of W.C. Fields, Preston Sturges, James Whale, and Spencer Tracy, follows Keaton's extraordinary life of triumph and tragedy in the first major biography in more than a quarter century. Drawing on newly unearthed archival resources, as well as interviews with family, friends, and co-workers, Keaton's complex genius emerges as never before.
Curtis brings new insights to Keaton's medicine show and vaudeville years as Buster becomes one of America's most famous performing children. Entering films as the protégée of Roscoe "Fatty" Arbuckle, Keaton quickly ascends to co-director of some of the world's most popular short comedies. And when Arbuckle moves into features in 1920, Keaton begins to write, direct, and star in his own series of comedy classics, films that are still revived and honored today as some of the screen's greatest treasures.
Curtis also examines in unprecedented detail what happens when a confluence of events brings an end to Keaton's time as a top star just as he appears to have mastered talking pictures. As Buster later put it, "There I was on the top of the world–on a toboggan."
Illustrated with 130 images, some never before published, "Buster Keaton: A Filmmaker's Life" is a compelling work of research and synthesis worthy of the man who has been called "the D.W. Griffith of Comedy" and who continues to be a potent influence on movies the world over.
Published by
Alfred A. Knopf
819 pages/130 images
Also available as an e-book
and an audio book from
Pengiun Random House
"It is brilliant--I was totally absorbed, couldn't stop reading it and was very sorry when it ended." -- Kevin Brownlow
"Just as Buster Keaton's work transcends its flowering in silent films, so James Curtis's biography transcends the catagory of show business biography. In a narrative that majestically carries its subject from 19th century vaudeville to Cinerama to immortality, Keaton is given his due, not just as an artist, but as a man who lived a paradigmatic American life." -- Scott Eyman
"At more than 600 pages, this is not the kind of book one takes up casually. I cleared time on my calendar to read it cover to cover. By the time I got to Buster Keaton's blossoming film career in the 1920s, it was hard to put down... Others can, and will, continue to write about Buster Keaton and offer their own interpretations... but I can't imagine anyone else tackling his life. This volume can lay claim to being definitive." -- Leonard Maltin
"The greatest of silent film stars gets the epic biography he richly deserves. Thorough, revelatory, and a fascinating look at cinema from a century ago." -- Nik Dirga, The Listener (NZ)
"Following his books on Preston Sturges and W.C. Fields, James Curtis delivers his definitive new biography of one of cinema's greatest silent comedians." -- Empire (UK)
"At long last, Buster Keaton gets the biography he deserves. James Curtis has given us a monumental book, one of the best Hollywood biographies ever written. Curtis has authored the definitive biographies of W. C. Fields, Preston Sturges, and Spencer Tracy, but this might well be his masterpiece." -- David Weddle, author of "If They Move, Kill 'Em! The Life and Times of Sam Peckinpah", writer/executive producer "For All Mankind", and writer/supervising producer "Battlestar Galactica"
"Buster Keaton (1895-1966), a director and star of silent comedy classics, emerges as a great auteur and a martyr to Hollywood in this vibrant biography... The story is evocative, entertaining, and laced with lyrical detail. This is an engrossing portrait of a Hollywood legend." -- Publishers Weekly (starred review)
"Curtis draws on abundant archival sources as well as interviews, memoirs, and previous biographies to create a comprehensive, warmly sympathetic life of iconic entertainer Joseph Frank "Buster" Keaton... In lively detail, Curtis... recounts the highs and lows of Keaton's prolific career, tracing 'the development of gags, the logic of gags, the mechanics of gags' as he acted on stage and in silent movies, talkies and TV... Meticulous research informs a brisk biography of an entertainment icon." -- Kirkus Reviews (starred review)
"Comprehensive... Curtis, who has also written mighty biographies of Preston Sturges, James Whale, W.C. Fields, and Spencer Tracy, does a delightful job of capturing the old, weird America in which the Keatons plied their trade, Joe with his acrobatic pratfalls and high kicks, and the 4-foot-11 Myra with her musical accompaniment on piano and saxophone... Keaton was as much a technical innovator as he was a comic, and Curtis's book goes into painstaking detail about how these effects were achieved... it's as definitive an account of the sad-faced comedian as one could hope for." -- David Kamp, The New York Times Book Review
"From debunking myth to revealing the perfect pie-in-the-face recipe, James Curtis's biography is a sterling tribute to a cinema legend... Unlike past biographers such as Rudi Blesh, Curtis avoids the traps of reverence and romanticism. The story he tells is a remarkable one, rich with pathos, despair, triumph--but like Keaton's Great Stone Face, he leaves those emotions for the reader to find." -- Renee Branum, Sunday Telegraph (UK)
"Keaton fans have often complained that nearly all biographies of him suffer from a questionable slant or a cursory treatment of key events. With 'Buster Keaton: A Filmmaker's Life'--at more than 800 pages dense with research and facts--Mr. Curtis rectifies that situation, and how. He digs deep into Keaton's process and shows how something like the brilliant two-reeler 'Cops' went from a storyline conceived from necessity--construction on the movie lot encouraged shooting outdoors--to a masterpiece, with its meticulously planned finale in which Keaton dashes through the streets of Los Angeles chased by 350 cops... This will doubtless be the primary reference on Keaton's life for a long time to come." -- Farran Smith Nehme, The Wall Street Journal
"Best Keaton bio ever... 'Buster Keaton: A Filmmaker's Life' by James Curtis is the book we have long awaited. The book is simply magnificent... If you are a Keaton fan, you need to get this book. Want to write something on Buster? You need this book. Want to impress other Keaton experts with your increased knowledge? You need this book." -- David B. Pearson, The Keaton Chronicle, International Buster Keaton Society
"Curtis breathes new life into the classic comic, exploring the richer context of Keaton's entire career rather than merely hitting the highlights. Although ultimately celebrating Keaton, Curtis also explores, with admirable evenhandedness, the performer's private struggles with depression, adultery, and alcoholism... VERDICT: This decade will mark the centenaries of Buster Keaton's most celebrated features, and Curtis has assembled a biography that will be a go-to source for fans both old and new during the centenary celebration and beyond." -- Gregory Stall, Library Journal

"Those who are [interested in the entirety of Keaton's story] will feast on Curtis' overstuffed book, which belongs in any film fan's library for providing a close look at the silent era and all of Keaton's efforts, whether big or small, triumph or failure." -- Douglass K. Daniel, Associated Press
"Authoritative... [Keaton] emerges from the pages of Curtis's [book] not just as the first indie auteur but as the direct forerunner of Indiana Jones and Jason Bourne: the first action hero." -- Tom Shone, Avenue
"Based on deep archival research, Curtis' engrossing book captures Keaton through a life or reinvention, from a toddler performing with his family to a comic genius and acrobatic actor with his trademark woeful eyes, deadpan expression, and porkpie hat." -- The National Book Review
"James Curtis's [book] is an immense year-by-year, sometimes week-by-week, account of Keaton as an artist and a man. Every detail of his life and work is here... Curtis takes us through the progress of the brutal comedy act that Joe Keaton raised his son to star in... We even hear about gags that Buster Keaton helped invent for Abbott and Costello in his later, seeming fallow, years." -- Adam Gopnik, The New Yorker
"As his previous biographies of W.C. Fields, Spencer Tracy, and Preston Sturges attest, film historian James Curtis doesn't write inconsequential profiles, he writes definitive biographies. Curtis's 'Buster Keaton: A Filmmaker's Life' is the masterclass biography fans of the 'Great Stone Face' comedian have been hoping for. This hefty, swift-moving book is both a superbly researched and fascinating account of the star's life and an astute, articulate and informed look at the many classic films and shorts he wrote, directed and starred in." -- Kevin Howell, Shelf Awareness
"A landmark biography... Keaton's career in the limelight (he started performing at age 3) and his innovations in motion pictures should keep readers riveted." -- Bethanne Patrick, Los Angeles Times
"In a pair of appendices, Curtis includes comprehensive summations of Keaton's film and television works. They are grand lists of considerable length, a marvelous coda to a wonderful book. From start to finish, 'Buster Keaton: A Filmmaker's Life', with all its rich detail and Curtis' genuine love for his subject, is the biography that Keaton deserves." -- Arnie Bernstein, New York Journal of Books
"Curtis is clearly an admirer of Keaton, but he doesn't view his subject through rose-colored glasses: he discusses and puts into context Keaton's battles with alcoholism and mental illness, his rocky marriage, and the devastating impact of poor reviews on some of Keaton's most personal projects. A valuable addition to the literature of film history." -- Booklist
"A definitive biography that delves into the mystery behind the man who made America laugh in the early days of film." -- Literary Hub
"James Curtis' hefty new [book] is a gift to move lovers. It's a gorgeously formatted and produced volume, both precise and exhaustive in tracing the life and creative persuits of the brilliant comic artist and sometime film director who reached his apogee in the 1920s. It's perfect for a leisurely read or a stint of index-dipping into the performer's long life and career." -- Bob Duffy, Washington Independent Review of Books